| | |
| --- | --- |
| Looking at smiling faces, laughing children combining with the blue bright day reflect a perfect figure of wonderful world. Such a blessed collaboration, on 22 July 2010, together Philips employees with students & teachers from one of elementary school, continuing PT Philips Indonesia's commitment to people's health-well being and better lighting by "Simply Healthy at School program". | |
| Togetherness of Philips' employees doing social activities with students and teachers of SDN Kendal Pecabean - elementary school located around plant factory. The program very interesting for them, such as: joint housekeeping in the class room, teach students about healthy lifestyle, simple medical check up, planting the trees, donate soccer apparatus for the students, renovate sanitation and better classrooms' lighting, etc. All these ultimately bring Philips employees' are feel proud & enthusiasm for their involvement in contributing & creating better health & education for society around factory. |   |
| | |
| --- | --- |
| On a separate time & place, Philips Lighting Surabaya continuing caring to others by  fasting break with the kids mostly from street children coordinated by SSBSS (Sekolah Sepak Bola Social Surabaya / Surabaya Social Soccer School). Together, on 1 September 2010, Philips employees have a fasting break with the kids.During the session, Philips employees collaborated with donator of "Taiwan Gentlemen's Xmas Lunch" provides some joining games; donate soccer apparatus such as wicket,soccer, gloves, etc. |   |
| After several years support the Social Soccer School in Surabaya "SSBSS", we proud that Philips Lighting Surabaya has contributed progressive development of children's soccer in Surabaya. Some of the kids have selected to be professional soccer player in region and even some of them having chance going abroad for playing soccer in Europe. We proud in contributing to create brighter future for them… | |
 

Engagement Events: In the month of July'10, Management Lighting Surabaya invite employees and their families who have reached the working service of multiple 5 years in special engagement session. They are invited for dinner session with Management in 4 star - hotel, enjoying the entertainment /music, games and also interesting video. Employees are enthusiasm to joint and participate in the special occasion, since they can only feel and experience this occasion after 5 years service period.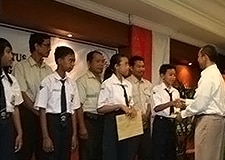 Meanwhile, coincides with the commemoration I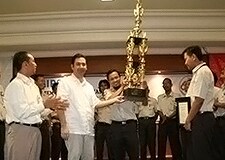 ndonesia's Independence Day, Management & shop floor employees also has another engagement moment. On that occasion, Management announced and recognizes the outstanding employees and directly rewarded by General Manager in front of hundreds participants. In this event, Management also awarded the Best Fire Squad and First Aid. Besides that, to intensify of employee engagement and considering families needs, Philips Lighting Surabaya also awarding Children's Employee who has very good achievement on their school. This was happened, lately, on 18 August 2010.