Philips TL-LED lights save up to 50% energy consumption compared to conventional TL system or ordinary fluorescent lamps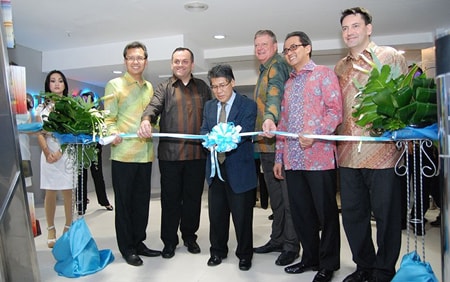 Jakarta – Philips Indonesia, the leading lighting producer in Indonesia, and Carrefour Indonesia, the largest retail chain in Indonesia, today announced their partnership in promoting green retail concept that can significantly reduce the energy consumption. Carrefour outlet in Emporium Pluit Mall has been selected as the first project to showcase this collaboration. The inauguration of Carrefour Emporium Pluit Mall as "The First and the Greenest Carrefour Outlet Implementing Philips LED Full-LED Lighting" was conducted today with the presence of the Minister of Energy and Mineral Resources, Darwin Zahedy Saleh.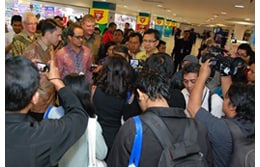 "Philips and Carrefour have been partnering in Indonesia since 1998. We value this partnership very much because the two companies have strong commitment in environmental care.  Philips LED lighting technology that will be installed in six Carrefour outlets can significantly reduce energy consumption and reduce CO2 emission. We provide significant savings in energy and maintenance cost and the solution is environmentally sustainable, as the products contain no hazardous waste. Moreover, the shopping experience is enhanced," said Rob Fletcher, President Director of Philips Indonesia.
"The cooperation with Philips in green lighting is the confirmation of Carrefour's commitment to green industry practice. We are working to apply green principles in our operation such as the use of biodegradable plastic and reusable shopping bags. The installation of Philips LED lighting will not only reduce operating cost and but will also significantly save our maintenance expenses for re-lamping," explained Eric Uzan, President Director PT Carrefour Indonesia.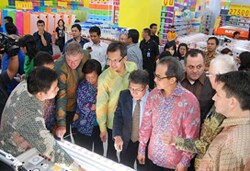 Philips installed 4620 LED lamps in Carrefour Emporium Pluit Mall, not only in the sales area but also in other specific areas, such as fresh area (meat area, chillers, freezer) and the cashier area. This will enhance the total shopping experience for consumers as they will see the merchandise in true color.
"As one of the founding members of the Green Building Council of Indonesia (GBCI), Philips has been actively involved in promoting the use of eco-friendly lighting solutions and energy efficiency in all segments. Lighting consumes about 20% of the total global energy use. With the use of LED efficient lighting technology in public and commercial buildings, the world can save up to 50% of energy consumption from lighting," said Naning Adiwoso, Chairman of Green Building Council of Indonesia (GBCI).
 
The project to install Philips LED lighting in six remodelling outlets of Carrefour (Emporium Pluit Mall, Mall Of Indonesia, ITC BSD Tangerang, Medan Fair, Panakukang Mall Makassar, Plaza Ambarukmo Yogyakarta) will be completed in May 2011. Other four new outlets will be completed in 2011. Philips will install more than 50,000 LED lamps that will reduce CO2 emission by 4,353 ton every year that is equal to planting 217 thousand trees, will save 290,000 KWh/year. More over the products contain no hazardous waste (mercury).