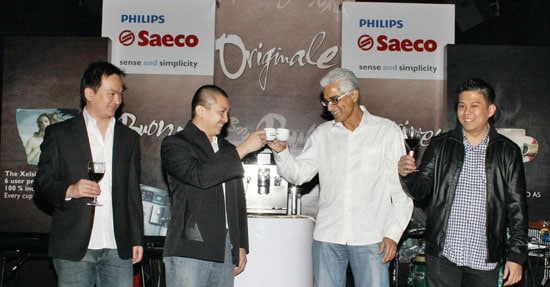 Indonesia – Philips Saeco, the Italian inventor of the full automatic espresso machine, has launched its latest range of home espresso machines – the Xelsis, Syntia, Xsmall and Poemia.  With this luxury espresso machine collection, Philips Saeco is bringing even the most demanding coffee connoisseur a unique Italian Barista experience at home, at the simple touch of a button.
"We are proud to launch the new Philips Saeco range for our consumers in Indonesia. With improving living standards and urban lifestyle changes, there is strong demand for products that bring a touch of luxury and indulgence to the home.  Through our brand promise of "Sense and Simplicity", Indonesian families can now delight in the pleasure of an authentic Italian espresso at the simple push of a button," said Hendra Rusmana Liu, Commercial Organization Leader, Philips Consumer Lifestyle, PT. Philips Indonesia.
Quality coffee just the way you like it
Committed to offering the best in taste, design and performance, the four machines incorporate state-of-the-art technology to deliver coffee customized to preference and brewed perfection. With their full bean-to cup customization, these intelligent machines also allow for adjustable milk foam and levels, coffee length, intensity temperature and strength.
"The four machines launched today offers Saeco's ground-breaking technology and expertise in creating the perfect Italian espresso. The long heritage of Saeco brand has provide our consumer around the world with coffee as tasty, intense and delicious as the best coffee served in cafes, so that every coffee moment at home can be as pleasant as meeting up in Café. We are bringing a truly espresso enjoyment to our consumer." Kean Yew, Marketing Manager for Coffee, Philips Consumer Lifestyle ASEAN.
Philips Saeco Adapting System provides specialised treatment of coffee beans, allowing consumer to choose specific speeds and the degree of grinding of coffee powder. As the final touch, Philips Saeco Brewing System, where consumer can adjust the espresso crema and body structure of their coffee by the single turn of a knob. The removable brewing group also allows for ergonomic operation, where consumer can simply clean it under running water.
Step into Italian style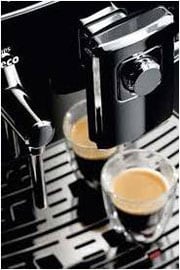 The style and design of Philips Saeco machines are inspired by contemporary themes with the most recent machines in the range using stainless steel and linear, elegant shapes to reflect a living trend of open space, clean lines and a more modern architecture where kitchen meets living room. The premium materials used to design the Philips Saeco range give them a very high-end, Italian design quality.
The stainless steel design implies a strong and on-trend espresso machine featuring chromed aluminium alloy details and integrated panels to create an elegant design.   Only Philips Saeco uses premium materials such as stainless steel and chromed aluminium across almost the entire range.
These machines have also achieved an "A class" energy label according to Swiss regulation given their energy-saving functions. They automatically switch to stand-by mode after an hour of non-operation, consuming less than one watt of electricity during stand-by mode.
There's a Philips Saeco espresso machine just waiting to flawlessly add to your lifestyle. Not only delicious, personalised espresso specialties delivered at the touch of a button, but a complete design experience too.  So, why not sit back, relax and enjoy your moment with a Philips Saeco automatic espresso machine, your perfect Italian Barista at home.