Philips introduces a micro research fund with Sleep and Snoring Clinic, Rumah Sakti Medistra to further the study of sleep diseases in Asia.
Philips calls on people to take the online self-assessment Sleep Quiz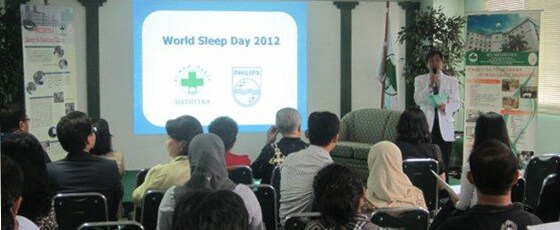 Jakarta, Indonesia- As a leading company in health and wellbeing Royal Philips Electronics (NYSE: PHG, AEX: PHI) announced today a global partnership with the World Association of Sleep Medicine (WASM), as official sponsor of World Sleep Day 2012, being held across the globe on Friday March 16. This partnership illustrates Philips" expanding efforts to increase awareness of how the quality of sleep impacts people"s overall health and Wellbeing, on a daily basis. The theme for World Sleep Day this year is "Breathe Easily, Sleep Well", to highlight the importance of identifying breathing-related sleep disorders to achieve quality sleep for people of all ages.

Philips to Raise Public and Physician Awareness of OSA in Indonesia "According to Philips Health and Wellbeing index, a comprehensive analysis of responses from over 31,000 people including Indonesians on people"s health and wellbeing, approximately of 20% of the respondents admit difficulties in having good quality of sleeping." said Teguh Purwanto, General Manager Healthcare PT Philips Indonesia. While there are a number of potential causes for a disturbed night"s sleep, the most common cause is Obstructive Sleep Apnea (OSA).

"Obstructive Sleep Apnea (OSA) is a type of sleeping disorder that affects breathing. People suffering from OSA stops breathing from time to time during their sleep, each pause can last up to 10 seconds and results in decreased oxygen supply. OSA becomes more severe when the pauses of breaths occur more than five times per hour during sleep. Some patients may experience hundreds of pauses of breaths per night. OSA may result in accidents at work or on the road. It may also lead to hypertension, diabetes, heart attack, and stroke. OSA patients are exposed to twice the risk of stroke or death compared to those who do not suffer from OSA says Dr. Rimawati Tedjasukmana, SpS, RPSGT.

In Asia, Philips will be introducing a micro research fund in partnership with local sleep societies – including INA Sleep and Medistra hospital – to encourage more clinical research on  bstructive Sleep Apnea (OSA) and provide scholarships for medical students who are studying sleep medicine. This first micro research fund focusing on sleep disorders will be available for the next three years till 2014, and will drive deeper local understanding of the link between OSA and co-morbidities, and the economic impact of accidents caused by OSA. Proposals to apply for this fund can be submitted to and will be evaluated Philips.

Students who are interested in studying sleep medicine can also apply to the fund for scholarships. "Philips is pleased to partner with the Rumah Sakit Medistra for World Sleep Day 2012 to build awareness and understanding around disorders that affect the quality of sleep, including obstructive sleep apnea," said Dr. David White, Chief Medical Officer for Philips Home Healthcare Solutions and a professor of sleep medicine at Harvard Medical School, "Philips offers a wide range of sleep-related products and solutions, from diagnostic tools through to patient-centred sleep therapy devices, to enhance the quality of sleep and improve the health and well-being of our customers and patients around the world."

Philips will also be conducting a General Practitioners (GP) Symposium in 2012, to increase physician awareness of OSA and how to spot and diagnose the disease. The public can also learn more about OSA, take an online sleep quiz to determine their risk of OSA, and identify local sleep laboratories, at www.areyousnoring.com – which will be available in Indonesia later in 2012.