Frequently Asked Questions
Can I sterilize/clean dirty bottles in my Avent sterilizer?
No, you have to wash the bottles before putting them into the Philips Avent sterilizer. Find out how it works.
Washing instructions
Clean them thoroughly in the dishwasher or clean them by hand in hot water with some dishwashing liquid.
If you own a Philips Sterilizer type SCF287 or SCF286, you can use the dishwasher basket to pre clean the items you want to sterilize.
SCF287 or SCF286:
Using the sterilizer basket:
1) Open the two sections of the lid of the dishwasher basket and place the bottles and accessories in the basket
Make sure that the bottles are placed upside down.
2) Close the two sections of the lid of the dishwasher basket
3) Place the basket in the dishwasher.
4) Switch on the dishwasher and let it complete the dishwashing cycle.
5) When the dishwasher is finished, take out the dishwasher basket and make sure that the dishwasher basket and all items to be sterilized, are clean. If not, clean them by hand.
6) Place the dishwasher basket completely into the large basket of the sterilizer.
You can leave the dishwasher basket inside the large basket with the two sections of the lid opened.
Open the Dishwasher Basket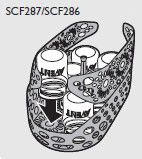 Close the dishwasher basket